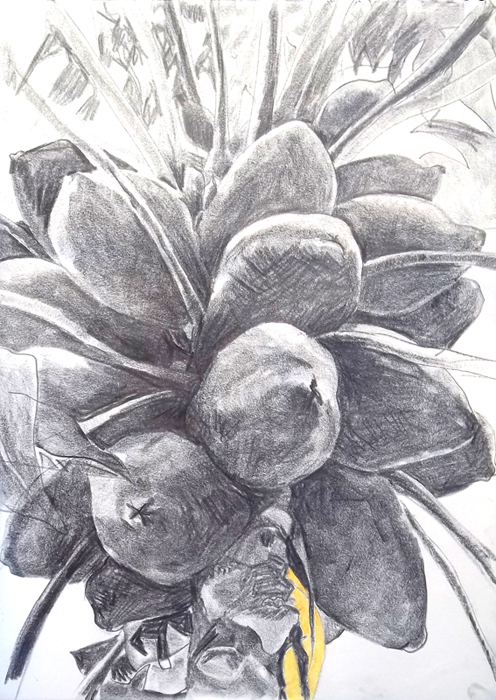 Drawing Plants on Madeira
11-Day residential workshop Spring/Fall 2022

scrolling down you find some impressions of our last trips
About the workshop:
We will combine thorough study and observation
with an artistic representation of the plants
in your personal style.

In warm-up sessions we will explore:
-using the whole potential of my pencil
-drawing in a naturalistic
as well as a free artistic style
-understanding proportion and perspective,
especially perspective of leaves curled into space
-mixing colour to achieve the natural colour
as well as an interesting more expressive colouring
-understanding colours
in their relation to light and shadow
-achieving three-dimensional appearance with hatchings
that describe the form
-modeling with light and shadow
-getting to know materials and techniques
-finding an interesting composition
-trying different ways of sketching


in daily meetings ("crits") we will discuss our work

All levels:I design my classes in such a way
that beginners can approach new topics confidently,
and are enabled to learn quickly,
while experienced artists get new inspiration
and constructive critique.
We will develop a lively cooperation,
that can be inspiring for all of us!

classes will be held bilingual in English and German


Places to stay:
Madalena do Mar
We will draw there right at the beach, in Dona Maria's bar :-)
but especially the "bananeiras", the fascinating banana plants!
Faja dos padres
right below the cliffs at the sea,
some small houses surrounded by mango-
and avocado orchards and a diverse flora


Places we visit for drawing excursions:
Funchal
Parque Municipal, Blandy Garden, Botanical Garden

Paul da Serra
the high plane, tree heather wood (Erica arborea),
a circle of huge old Laurel trees
We often can draw right outside where we live.
After five days, we will have a 'transfer day'
for moving, shopping, relaxing
and getting to know the island.
One day is reserved exclusively for individual island adventures:
A trip to Funchal for those interested in urban culture,
hiking in the laurel forests,
a day at the beach...
going by ship to Porto Santo, the neighbouring island...

For questions regarding flight and accommodation
please contact Teresa de Silva:
teresa.silva@t-online.de
For questions regarding equipment and drawing instruction,
please contact me.
Price: 1150 Euro
(package includes 10 nights accommodation in two different places,
35 hours drawing instruction on 7 days)

Transfers with taxis/rental cars will be another 80 - 100 Euro

Madeira - ! ! !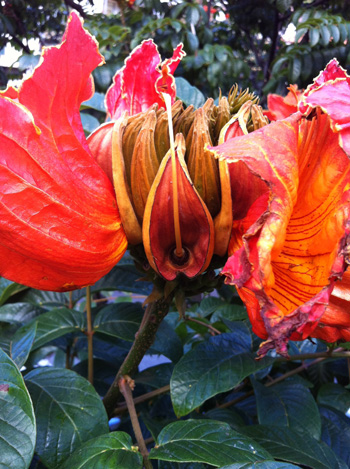 Dive into the abundance of flowers - an "African Tuliptree"
(Spathodea campanulata) in Madalena do Mar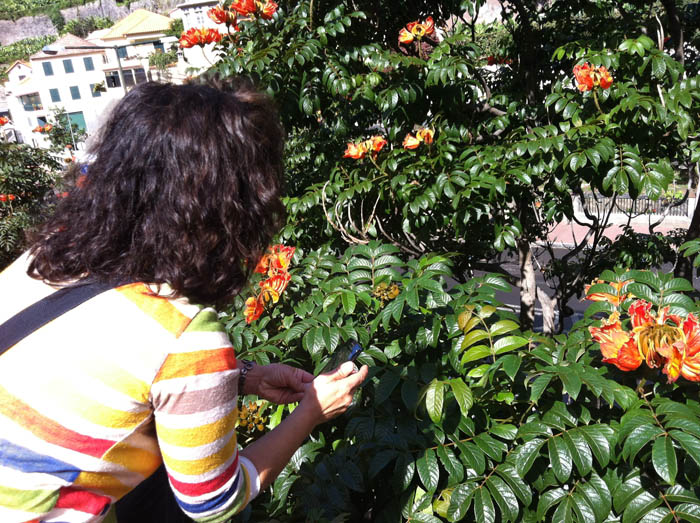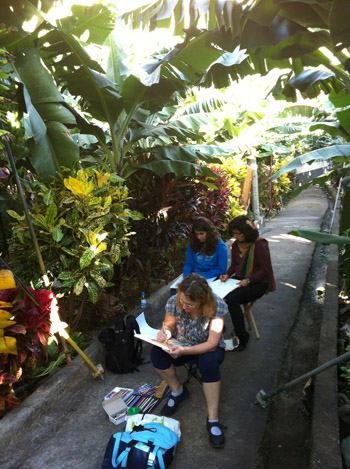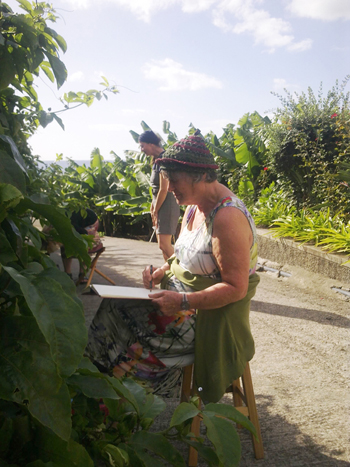 we can start to draw in and about the banana plantation...

On Madeira "plantations" are merely big gardens:
they contain 10 - 20 "Bananeiras" (banana plants) surrounded by walls of volcanic rock, excellently crafted
always accompanied by a "Levada".
Levadas are small walled aqueducts, that transport water
from the humid Northeast to the fertile but dry Southwest of the island.
They do this totally without expenditure of energy - only through a steady slight gradient.
They form an admirably smart ancient irrigation-system, that still works today.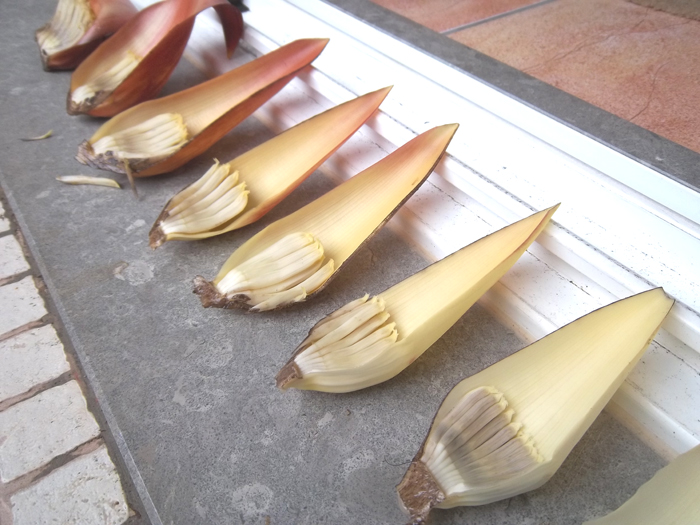 The flowers of Bananas are totally fascinating, again and again -
here we had a little installation on the balcony:
in long rows we laid out the bracts each one with its rows of flowers attached.
The outer ones are deep violet,
towards the inner parts they become smaller and brighter.
Borne on each bract are 20 flowers in a double row of 10 ,
out of which the same amount of banana fruit develop.
In the "original" bananas in former times the got pollinated by bats,
and contained big black seeds.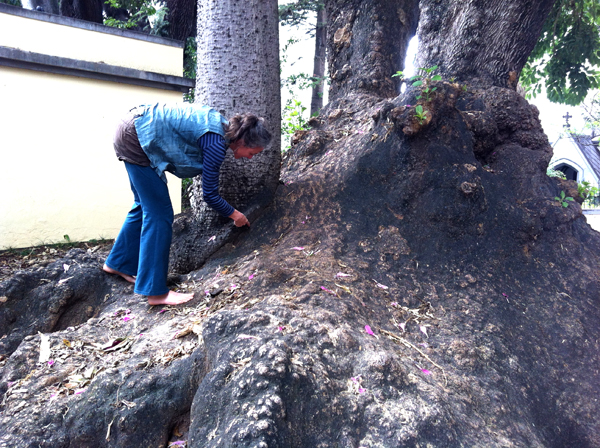 In Parque Municipal in Funchal ( Capital of Madeira)
we meet incredible tropical trees...
the hill, on which you see me so enthusiasticly walk about here,
consists entirely of roots of a Kapoc tree (Ceiba speciosa)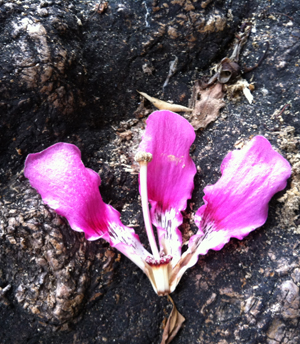 her big pink flowers


the fascinating structure of her bark - that alone would be worth a picture!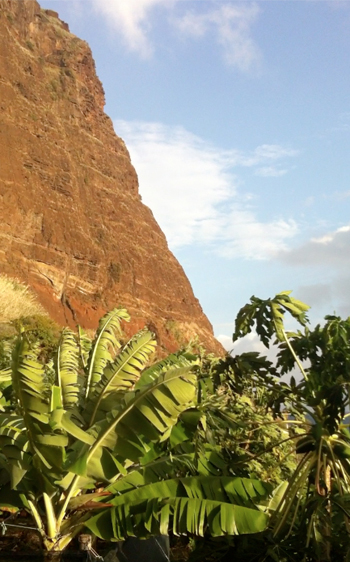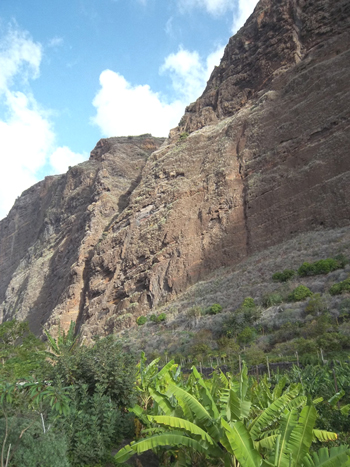 at the bottom of this steep slope lies Faja dos Padres...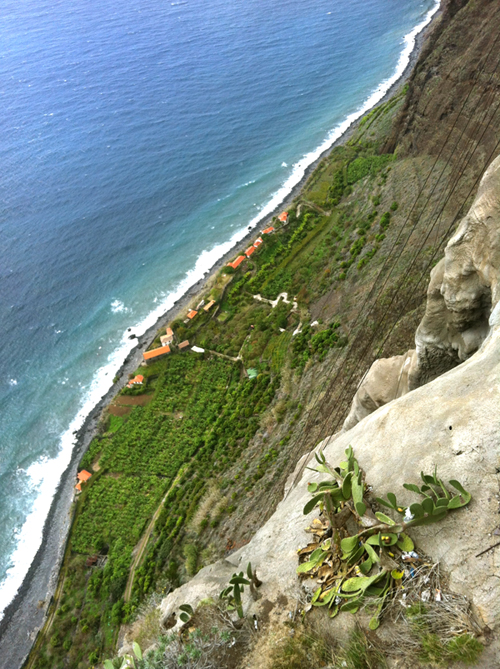 It´s an ancient estate with a mixed history from monastery to farm.
You only get here via boat, or via elevator directly descending down the cliff
some hundred meters - adventurous!
Down there are only the farm and some little houses for guests and a restaurant -
we will see and hear no cars for some days down there!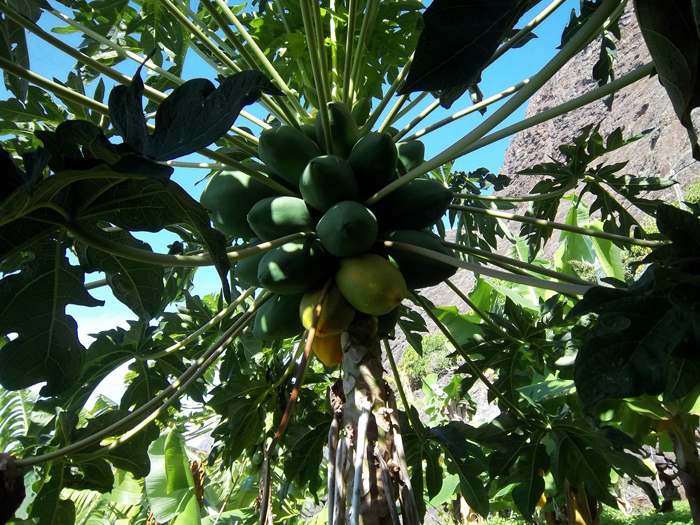 The Papayas (Carica papaya) are growing amidst the Bananeiras,
and this beautiful juicy treelet made me draw the picture below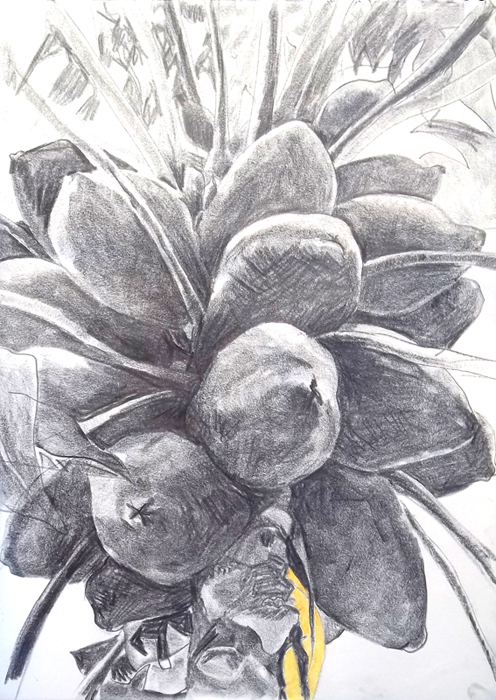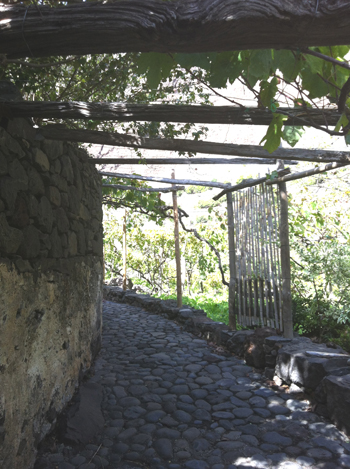 The way to the huts is paved with volcanic pebbles from the beach.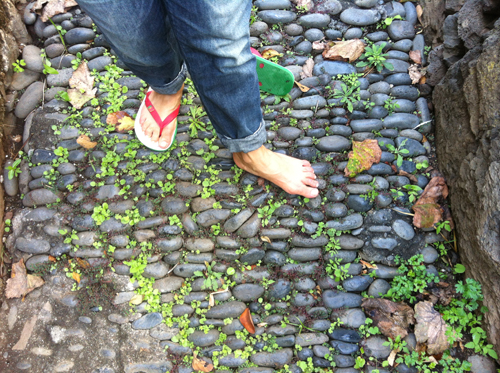 They are smoth and round, honed by the waves,
and deliver a good massage to the feet.
Many Madeiran ways are paved using this method.
It has even got a special name: "Calcada madeirense"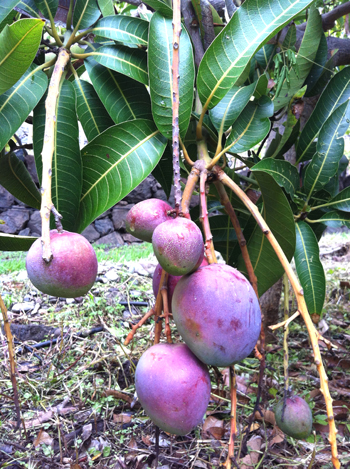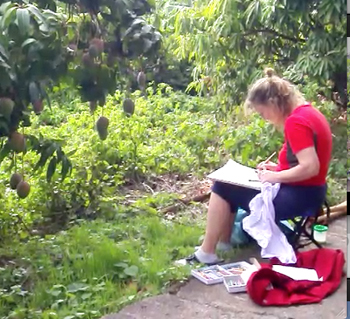 Many Mango Trees are growing here, too.
We are not allowed to pluck their fruit - but when they are ripely falling
we may take them. They are totally super and not comparable with anything bought in a shop.




Beate is/ has? sunken for some hours, drawing the fruit of the Mango tree...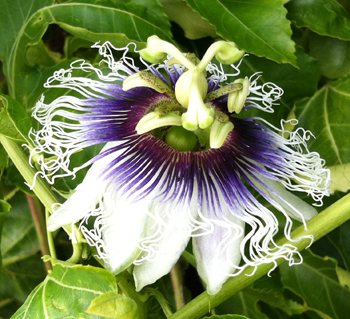 The Passoin flower ( Passiflora edulis) is growing along the pathes.
Her fruit is soursweetjuicyummmmhh!


The complex architecture of her flower renders me speechless ...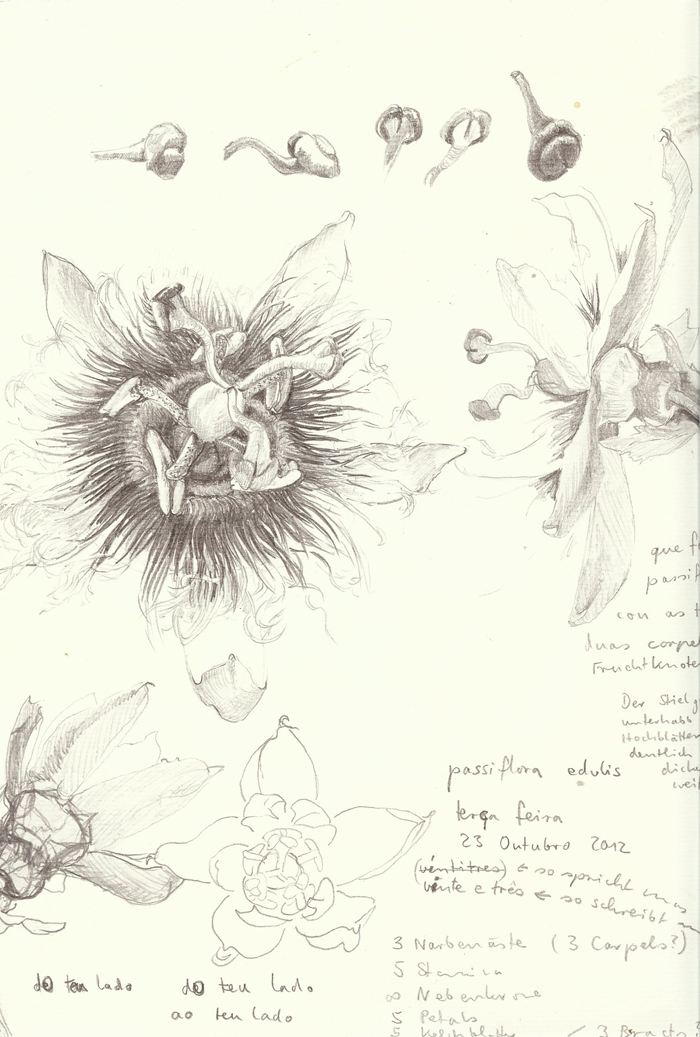 Thanks god we can draw, where words just fail to work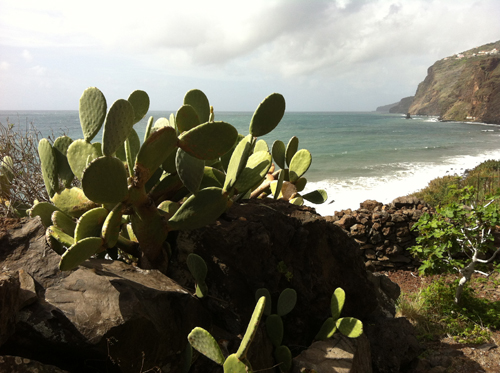 The way down to the sea passes by Opuntias and little fig trees,
always encroached by the typical low stone walls,
done without mortar.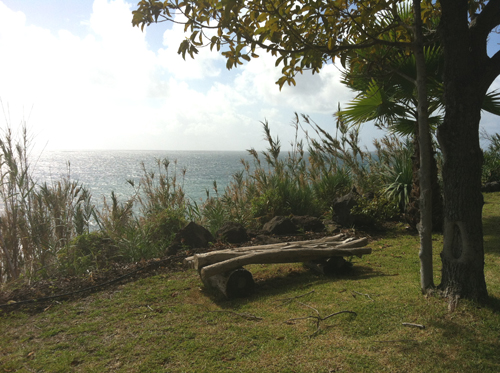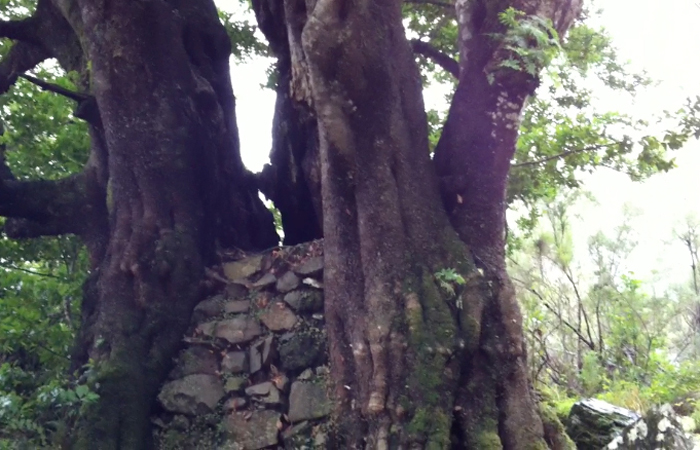 Also this tree, one of the oldest of the island, is supported by such a wall.
She has been old already, when the first immigrants arrived...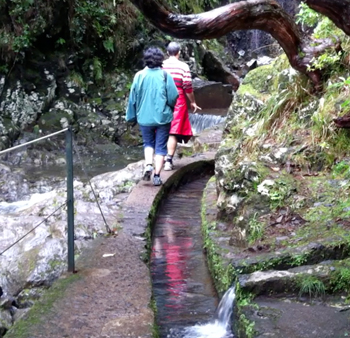 A walk along the levada...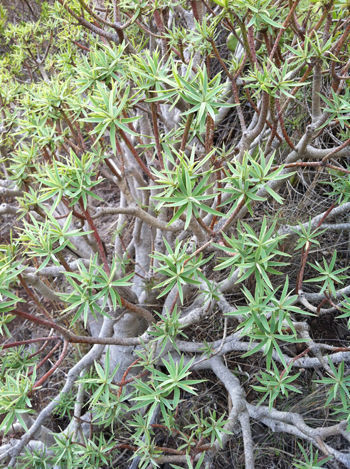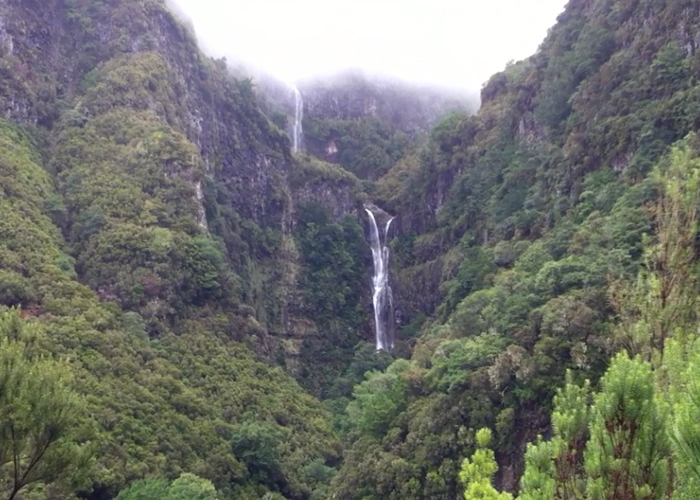 water is omnipresent on Madeira!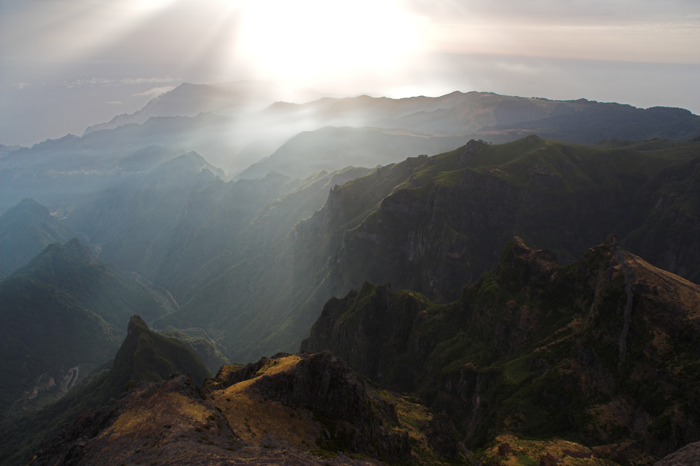 . . ↓
. . ↓
. . ↓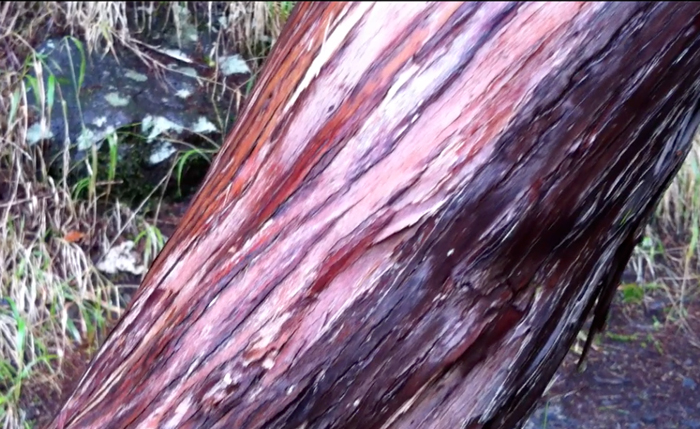 By the way: "Madeira" means "wood" !


. . ↓
. . ↓
. . ↓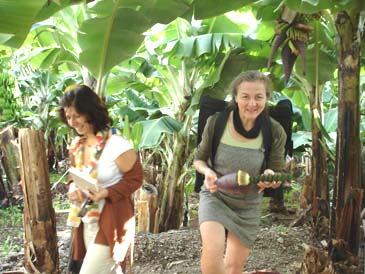 Teresa and Yasumin - totally enthusiastic with the bananeiras!